Ever wondered what the best keto ice cream brands are? Here is a quick list for you if you have sweet tooth while you are on the keto diet!
Our Top Keto Ice Cream Pick: Halo Top Creamery

Introduction
One of the things that low-carb diets lack is a variety of sweet food. Many people use their cheat meal with a portion of dessert more than anything else. However, thanks to the ketogenic diet being so popular, many brands have been producing sugar-free, no-carb, high-protein desserts.
A full spoon of ice cream on a summer night can ease up most problems that you may have with the ketogenic diet. So, we thought it would be good to rank which one is the best and which one is less desirable.
The Best Keto Ice Cream Brands
| # | Name | Our Rating | Product Link |
| --- | --- | --- | --- |
| 1 | Halo Top Creamery | | |
| 2 | Rebel Ice Cream | | |
| 3 | Enlightened Ice Cream | | |
| 4 | So Delicious | | |
| 5 | Breyers CarbSmart | | |
| 6 | Arctic Zero | | |
What to look for in a keto-friendly ice cream?
As you may already know, people doing the keto diet refrain from high-carb foods. Most desserts fall into this category, unfortunately, and this seems to be the most taxing attribute of the keto diet. But, we are going to ease your burden by recommending you nicely-frozen, tasty, and keto diet friendly ice creams.
While you can certainly prepare your own ice cream at home, it isn't necessarily the simplest and least time consuming task. And if you are buying ice cream, you need to look for the nutrition facts, if you can even find what you're looking for, since with keto ice cream the carb count needs to be as low as possible. If it is in single digits, you are good to go.
Another thing you should be looking for is that you need to check what type of sugar equivalent there is in the cup. Xylitol or erythritol are good replacements instead of regular sugar. You should note that a full cup of ice cream contains about 40 to 50 grams of sugar while keto-friendly ice cream cups have less than 15. Considering that you can only take about 50 grams of sugar a day on keto, this is a huge step forward.
Long story short, let's delve deeper with the brands!
#1 Halo Top Creamery: Top Pick of our List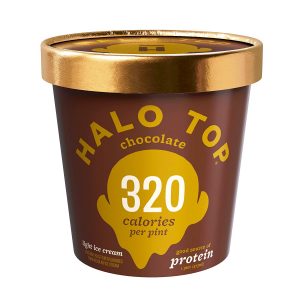 Halo Top is a great brand that sweetens our diet days thanks to their varying flavored ice creams. All the flavors by this brand range from 280 calories to 360 calories per pint. There are peanut butter cup, chocolate chip cookie dough, pistachio, mint chip, birthday cake as their most popular flavors. However, there are also chocolate, strawberry, chocolate mocha chip, cookies & cream, candy bar, peaches & cream flavors that you can choose as well.
If you want something with higher fat, you should be checking out peanut butter. It is extremely tasty and feels like normal ice cream with peanut butter even. If you are having trouble with getting used to the taste of Splenda or Stevia, you will like this. There is artificial sugar as well but the taste of peanut butter appeases that.
In a serving, there are 14 to 17 grams of carbohydrates of which 6 or 7 grams are sugar and the rest is a sugar alcohol and dietary fibers.
To sum up, it is a very lovely replacement for regular ice cream and it is a very good choice for keto diet people who have a strong sweet tooth.
Pros
Good range of products
Very low sugar levels
Cons
Pistachio feels a bit dull
#2 Rebel Ice Cream: As Good As It Gets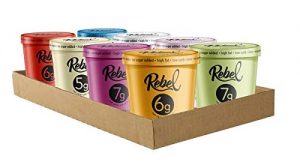 Rebel is the best ice cream when it comes to the net carb counts. It contains carbohydrates as low as possible. It is about 8 grams of carbs per pint. There are 4 servings in a pint, so you will be intaking 2 grams of carbs for one pint.
It also has a good range of flavors. There are cookies & cream, salted caramel, black raspberry, triple chocolate, cherry chip, coconut almond swirl, peanut butter fudge, and vanilla. Unfortunately, there is a lack of choices if you like plain tastes such as chocolate or strawberry.
Well, a good thing is that Rebel sells all 8 pints in one mixed case which they call "Maverick". This is good for people who like different tastes as well.
Rebel sweetens its ice creams naturally with ketogenic ingredients. It will not raise your blood sugar so, it is good for you if you have diabetes, as well. The ice cream is also kosher.
It is quite delicious and you do not feel you are eating low-carb ice cream. When it comes to taste, maybe some lack of taste with substantial inclusions such as doughs and chips. However, it is quite minuscule.
Pros
Nice sweetness
2 gram of carbs is great
Cons
#3 Enlightened: An Ice Cream to Enlighten Us
Enlightened comes both in pints and sticks which is quite exceptional in the ketogenic ice cream market. If you feel like you cannot stop yourself with one serving, a stick of Enlightened might be the solution.
In cups, Enlightened has chocolate glazed donut and vanilla as the most popular choices while there are packs of sticks of mint chocolate chips and sea salt caramel. The sweetener ingredients are erythritol as well as monk fruit to add more natural taste to the ice cream.
In one ice cream bar, there are only 70 grams of calories while possessing 3 grams of sugar and 8 grams of protein which is great if you think this takes up only 3 grams out of 50 grams allowed.
Similarly, in one serving of an Enlightened pint, the calorie count sits at 180 while there are about 11 grams of carbohydrate in it. In chocolate gazed donut pint, you will intake 2 grams of protein per serving.
As a conclusion, we can easily say that this is one of the tastiest solutions to your sweet craving. It is tasty, full of protein, low carb, high fat just as every keto-diet would like to have.
Pros
Good range of products
Very low sugar levels
Cons
Pistachio feels a bit dull
#4 So Delicious: Indeed, it is!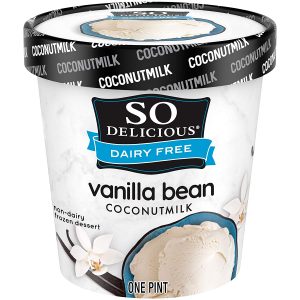 So Delicious does not only have ketogenic, low sugar ice creams so you need to be more careful while choosing. They have low sugar or no added sugar products we will list soon. Even they have more carbohydrates than our previous recommendations. In fact, this is why So Delicious ranks this low.
So Delicious mostly uses coconut milk as the primary milk which makes these products vegan. The no-sugar-added chocolate version has 18 grams of carbohydrate per serving while no-sugar-added mint chip has 20 grams per serving. So, the best way? Take half of the normal serving and enjoy a very tasty ice cream.
The So Delicious ice cream is vegan and gluten-free so if you have a gluten intolerance, you are free to use it. They use coconut milk instead of cow milk, unlike other ice cream brands.
In general, this is one of the yummiest ice creams that you can ever eat in your ketogenic diet. However, the portions need to be smaller just because these ice creams are not exactly keto-friendly. Despite that, sometimes it feels good to eat this tasty dessert even though it is smaller than you can eat.
Pros
Appetizing
Vegan and gluten-free
Cons
Servings have to be smaller
#5 Breyers CarbSmart: For those who are smart on carbs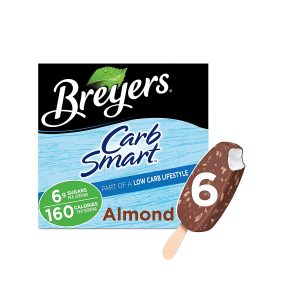 Breyers, just like So Delicious, is not a brand that only produces ketogenic ice creams; however, the CarbSmart series is excellent at keto diet. If you are watching your sugars, you do not need to just watch and miss thanks to Breyers.
There is a number of ice cream bars of Breyers CarbSmart. There is chocolate, vanilla, almond, fudge, vanilla, and smooth mint flavors in this series. Compared to the other recommendations, this is better for people who like simple and plain flavors and not doughs, cookies, chips, and so on.
When it comes to nutrition facts, there are 3 grams of sugar in one serving in the chocolate ice cream. I would have liked some chocolate chips in it; yet, it is tasty even without it. There are only 90 calories in one serving which is good for every type of diet, not only ketogenic diet.
Lastly, you should note that this is not a vegan nor gluten-free product. However, if you have diabetes, you can be sure that you will not spike your insulin levels. The brand brands itself as an environmentalist brand and its vanilla, for example, comes from Madagascar in alliance with the Rainforest Alliance.
Pros
Environmentalist brand
Nicely designed plain tastes
Cons
Sugar is noticeably artifical
#6 Arctic Zero: Cold and Gold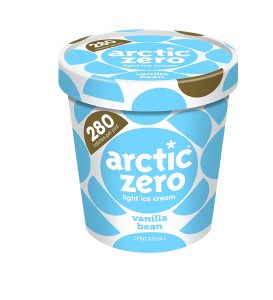 Do you want to have an innocent dessert in your ketogenic diet while keeping in line with the diet? People lose about 1 to 2 lbs per day with the keto but they still crave desserts. So, they end up cheating or leaving the diet at all. No more!
Arctic Zero comes in different flavors such as hint of mint, salted caramel, purely chocolate, cookie shake, and cookie dough chunk. These are all non-dairy products and qualify as a vegan product. So, if you are vegan and trying to watch your carbs and sugars, here is a great replacement dessert for you.
The whole pint (16 oz) has about 150 to 160 calories and one serving has less than 40 calories which is extremely good. In one serving of half a cup, Arctic Zero has about 9 grams of carbohydrate whose 5 grams are sugar. It has zero fat and 1 gram of protein. Lastly, it is rich in fibers which are about 4 grams in one serving.
To sum things up, it is quite low-carb while having no fat. It is our last pick on our list but it does not mean it tastes bad. It is quite delicious and fills your sweet tooth pretty well.
Pros
Good range of products
Vegan ice creams
Cons
Below-average cookie shake
Frequently Asked Questions
If I order online, how do they come without melting?
They come without melting as the pack contains lots of ice and the sender ships priority shipments. So, when you get this, you will not have to worry about a liquid pint of ice cream on its way. In case of broken or melted ice cream, you need to send it back and ask for a refund as it is not healthy to freeze it and eat it.
Do these brands produce completely low-carb ice creams?
Some of them do and some do not. You need to check their nutrition facts for every type of ice cream they sell. Mostly, you can find it on their Amazon page or just have a look when you are in the shop.
Can I eat them as much as I want?
If you are on a keto diet, you better count your daily carbs. As we said before, 50 grams is the maximum amount of carbohydrates you can take in a day. So, as long as you do not cross this, you can eat as much as you want.
Related articles: