A keto-friendly snack is a healthy snack! One of the things that keto dieters crave is the good old snacking. That's why we put together a list of the best keto pork rinds.
Our Top Pick
Ole' Uncle Porkers Himalayan Salt Flavor

Introduction
When we start off our marathons of weight loss and improving our health, we feel confident that we will not miss the snacks we are accustomed to and be just fine! However, it does not take too long until we realize that like many things in life, it is in fact much harder than we initially though. Snacks are… yummy. Imagine yourself sitting in front of your TV, watching a good movie and you cannot concentrate as you do not have any snacks.
Has it ever happened to you? It doubles your pain if your fit partner eats all the chips on their own and you are empty-handed. However, worry no more! We got your back! We decided to give you a list of pork rinds that you can eat like a bag of chips. They have healthy fats and no carbs, which means they are totally suitable for the ketogenic diet.
Our Top Keto Pork Rinds Picks
| # | Name | Our Rating | Product Link |
| --- | --- | --- | --- |
| 1 | Ole' Uncle Porkers Himalayan Salt Flavor | | |
| 2 | Ole' Uncle Porkers Mango Habanero Chili Flavo | | |
| 3 | Rib Rack Classic Pork Rinds | | |
| 4 | Lowrey's Bacon Curls Microwave Pork Rinds | | |
| 5 | Utz Pork Rinds Original Flavor | | |
| 6 | Pork King Pork Rind Breadcrumbs | | |
What do you need to look for when finding the best pork rinds?
Well, this depends on you, of course. There are lots of different flavors when it comes to pork rinds. Some of them that are tasty to me might make you feel as if you are eating fried logs. So, if we are talking about flavors, I cannot describe the perfect pork rind for you. However, there are things that need to exist if we want to keep our ketogenic diet in line.
So, here we are. Snack time! Yet, we do not know which ones are good for the diet. The first thing you need to look for is its carb count. As these are pork rinds, it needs to be zero or very close to zero.
The second thing you need to make sure is that the pork rinds need frying in either pork lard or one of the oils that keto diet allows. For example; coconut oil gives a lighter taste compared to other oils.
The last thing is about public health, of course. No matter you buy it online or from your local shop, you need to make sure that the jars are sealed safe and sound. If you order online and your jar comes unsealed, simply return and demand a refund.
#1 Ole' Uncle Porkers Himalayan Salt Flavor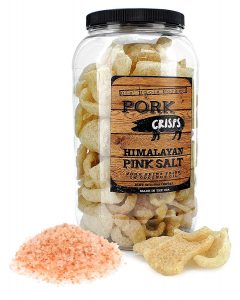 Ole' Uncle Porkers is a brand that produces really tasty and savory snacks in the keto diet. This Himalayan salt flavor pork rinds are exceptionally yummy and appetizing. The rinds are fried in coconut oil, giving them a lighter taste and a really fresh look.
The flavor is also good as the Himalayan salt has a plain flavor but lots of minerals that you need for your body. Another advantage of the Himalayan salt is that it fits greatly if you want to use it as a base for food preparations or bread crumbs.
It has zero carbs which make it perfect for the keto diet. If you are doing a paleo diet, you can eat it as a snack too. If you need to balance your macros, this little jar of snack can bring you happiness when you direly need a snack to make you happy.
Pros
Cons
#2 Ole' Uncle Porkers Mango Habanero Chili Flavor Pork Rind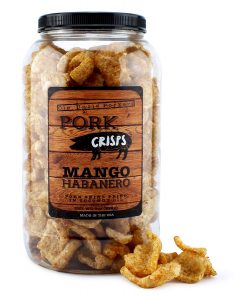 Ole' Uncle Porkers makes the two top picks of our list for a reason. The first one was good for a base in your meals as well as snacking but this one is a totally great snack. They perfectly seasoned it with mango habanero chili while adding virtually no sugar or other artificial ingredients.
There is no MSG, carb, or gluten in this product. Just like the first pick, the Ole' Uncle Porkers Mango Habanero Chili Flavor pork rind is also fried in coconut oil. However, unlike the first one, this time coconut oil does not suppress the flavor. You can smell that it is spicy even when blindfolded.
The spice rating is 6 out of 10 on the heat index; so, if you are good at spicy food, this should be nothing but a knick-knack for you.
It comes in a plastic sealed jar so that it will not break at all.
Pros
Plastic Jar
Nice spicy snack
Cons
Seasoning might have a bit of carb
#3 Rib Rack Classic Pork Rinds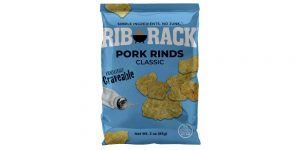 Rib Rack is probably the lightest and crunchiest pork rind on this list and that alone puts them at rank number 3. You may not be familiar with the brand; however, they are aggressively growing in the BBQ market in the US.
Rib Rack has created these pork rinds solely from the back of the pig which is the best part of the pig for this specific food type. It contains very high protein and exactly zero carbohydrates as the company seasons it with the salt only.
I am now giving you a hint to perfection. When I eat some snacks on my keto diet, I do not use them as a base or do other things. I simply prepare some sour cream sauce or nacho cheese dip sauce and eat them like chips. The reason Rib Rack ranks so high in the list is its performance with nacho cheese dip sauce. I tried it with many different pork rinds, but this is the best.
Pros
So tantalizing
Awesome nacho sauce performance
Cons
Comes in plastic bags not jars
#4 Lowrey's Bacon Curls Microwave Pork Rinds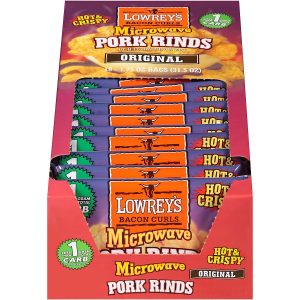 The Lowrey's Bacon Curls Microwave pork rinds bag is my latest discovery and I get used to it quite easily and swiftly. This is a different version than the other products on our list as you need to heat this one up in the microwave and watch while it gets tastier.
The flavor is original pork rinds with the salt only. I would have liked more flavors just like regular Doritos. You simply put it in the microwave, it takes a few minutes to heat up. However, you need to be careful not to overcook and burn them. At first try, I was just watching it closely as I thought the bag would blow up like popcorn. However, that is not an issue.
There is less than a gram of carbohydrate in one serving so, it is totally keto-friendly. There is the zip lock as eating the full bag is quite hard. You zip lock it and keep it in your cupboard. It will stay fresh for a couple of days more.
Pros
Cons
#5 Utz Pork Rinds Original Flavor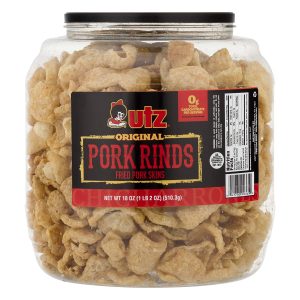 Pork rinds are something that I would suggest to my friends who are not on a diet and the Utz pork rinds is not an exception. It is full of protein and quite delicious. The enticing smell fills the air quickly as the brand uses only the highest quality parts of pigs. Even not on a keto diet, you can swap your potato chips for a light alternative like Utz pork rinds.
If you need an idea on how to use them except for a snack, I like breaking them into pieces and adding them into my salad. The crunchy feeling in my mouth feels so good. This is one of the reasons many people prefer original flavored pork rinds to others as the original flavor comes with a great range of areas of use.
Lastly, there are 8 grams of protein and zero carbs in one serving which is perfect for the keto diet.
Pros
The highest quality of pig parts
Good in a salad
Cons
#6 Pork King Pork Rind Breadcrumbs
We were hesitant that the Pork King Pork Rind Breadcrumbs would fall into this category as it is only breadcrumbs but merely made of pork rinds. Yet, we decided to add it as the rinds are rinds no matter their shape. It perfectly does what it does well. It is a great base in your meals.
One of the things that keto dieters are in dire need is to find a replacement for regular breadcrumbs. When you are cooking a recipe for a fat bomb, you feel that it would be awesome with a touch of breadcrumb. So, Pork King succors at this point. It helps you prepare simple and delicious recipes.
If you ever tried to prepare your own breadcrumbs with pork rinds, you know that it takes a bit of time. It becomes tedious after some time. Thus, this is the solution. Each serving has zero carbs and zero sugar while containing only 90 calories.
Pros
Convenient
Lowest calorie count
Cons
Conclusion
Using pork rinds in the kitchen as part of your recipes or simply eating them as a healthy snack… You can do whatever you want with pork rinds. As you can see from our star ratings, all 6 of the pork rind products are quite similar to each other when it comes to quality. However, as a keto dieter, please check your daily carb count first before eating. I hope you enjoy your meals or snacks with these pork rinds.
Frequently Asked Questions
Can I make them bread crumbs to cook with?
Yes, they work well indeed. In fact, we have one bread crumbs product on our list, you can check it out.
Does any of them contain soy, soy sauce in their flavors?
No, soy ingredients are not here and they should not be as soy is not so keto-friendly
What type of oil are these fried in?
Some of the products have their own fat as their frying oil and some have coconut oil. The pork lard has a bit heavier taste and sometimes get overcooked while coconut oil sometimes shades the real taste of the flavor.
What are the shelf lives of pork rinds?
Well, it depends on the brand, of course. However, they usually last more than a year. Keep it in your cupboard and that is all.
Do they actually have zero sugar?
According to FDA, if there is sugar fewer than one-eighth of a teaspoon, brands can market their products as sugar-free. So, when it is a classic favor, there is absolutely zero sugar; however, if you decide to buy with some flavor, maybe there is a slim chance it has very small amounts of sugar.
Related articles: