Wondering what the best keto meal replacement shakes are? These shakes will provide you with all the nutrients a full meal can offer!
Our Top Recommendation
The KetoLogic Keto Meal Replacement Shake

Thanks to its great amount of macronutrients, this shake makes it very easy to keep up with the keto diet. It has a high amounts of fat, lower amounts of protein and very low carbs. It is as delicious as a good soft drink, while containing the necessary MCT oil, and being very easy to digest.
Introduction
When you start the keto diet, you start losing a pound in a day and this is the first thing that motivates you, right? Yeah, this is the thing that everyone loves actually. You see the results on the bathroom scale right away. However, some of you may not have adequate time and want to speed up the weight loss process.
Meal replacement shakes are the shakes or powders that give you a full amount of nutrition in a meal. They have about the same calories, fat, and protein as you would take from a meal. So, these have become quite popular as they make the calculations much easier.
Our Top Keto Meal Replacement Picks
| # | Name | Our Rating | Product Link |
| --- | --- | --- | --- |
| 1 | KetoLogic Keto Meal Replacement Shake | | |
| 2 | Garden of Life Dr. Formulated Keto Meal | | |
| 3 | Keto Function Keto+ Shake | | |
| 4 | Nature Fuel Keto Meal Replacement | | |
| 5 | Purus Labs KetoFeed | | |
| 6 | SlimFast Keto Meal Shake | | |
| 7 | KetoScience Keto Meal Shake | | |
What to look for in a meal replacement shake
As keto gains more and more popularity, there are too many brands out there that want to gain the advantage of this trending diet. Hence, they produce lots of low-quality or non-keto products and brand them as if they were as actual keto products. They certainly don't care much about it, but this damages the entire keto diet market.
Because of that, I have decided to write a little informative section before starting the review of the products. Owing to that, I would like everyone to know what they need to know before buying a meal replacement shake.
First off, there are a lot of meal replacement shakes in the market and not all of them are keto. Sportspeople use different shakes as well as other low-carb dieters. Some meal replacement shakes rebranded themselves as keto-friendly, yet they are not.
Even before everything, you need to take a detailed look at the nutrition facts. I am going to provide you with the nutrition facts of every shake I review. However, if you are going to buy something different, you need to take a look at it yourself. As you are doing the keto diet, you need to memorize the percentages of the standard ketogenic diet. These are: 70 percent fat, 25 percent protein, and 5 percent carbohydrates.
Secondly, if you want to accelerate your weight loss, you need to buy as low-calorie as you can. With a normal keto recipe, you will get about 500-600 calories. These replacement shakes will lower these calories for sure. However, it is worth the look.
Lastly, the taste. Choose the taste carefully. Missing a specific food while on the keto diet is quite common, so try to go for the brands which have products with your favorite flavors.
#1 KetoLogic Keto Meal Replacement Shake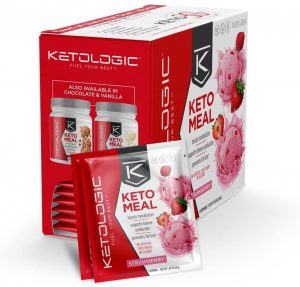 KetoLogic is probably one of the most well-known products in the keto diet market and they deserve the fame. In these shakes, there are 19 grams of fat, 10 grams of protein, and 11 grams of total carbohydrate. However, if you are counting the net carbs, there are 4 grams of fiber and 3.5 grams of sugar alcohols. Lastly, there are only 250 calories in one serving.
The taste is as good as it can be thanks to its strict policy of having no artificial flavors or sweeteners. It tastes quite natural and delicious. It is also sugar-free and gluten-free. You can feel the natural odor as soon as you open the cover. The best time to use it is before the daily exercise routine. However, if you do not exercise, you can drink it before breakfast.
When you buy a box of KetoLogic Keto Meal Replacement Shake, you will get 20 servings which is huge for the industry standards. So, plan accordingly whether you use once, twice, or more. There are different flavors as well. My favorite is the chocolate one; yet, vanilla, strawberry, and salted caramel ones are there to add a good range of flavors.
Pros
Natural taste and odor
Low calorie count
Cons
#2 Garden of Life Dr. Formulated Keto Meal Balanced Shake 4.6/5.0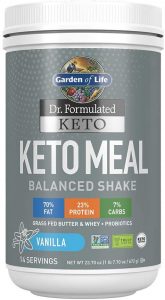 Dr. Formulated Keto Meal Shake deserves the second spot as it is a great way to balance your macros. The fact that it is not as tasty as the KetoLogic does not mean it is bad. If you care about the fat, protein, carb balance more than its taste, you will love this product.
There is a total of 22 grams of fat, 16 grams of protein, and 5 grams of carbohydrate in one serving. One serving gives you 280 calories. So, it is much more suitable for Keto than many other meal replacement shakes. When you buy one jar of it, you will have a total of 14 servings.
Thanks to its high MCT oil content which is easy to digest, it makes you enter the ketosis much easier than normal. Its fat content comes from organic grass-fed butter. It has a certificate that proves it is non-GMO and keto-friendly.
Lastly, there are only two different flavors of this brand. Chocolate and Vanilla. If you are not looking for some fancy tastes, chocolate is quite enough.
To conclude, Dr. Formulated Keto Shake does not provide you with the best taste. You may only hide the taste if you combine it with others; however, the real trick of this product lies within its content. Content-wise, it is the best one on the list.
Pros
The most suitable keto shake
Very low carb count
Cons
#3 Keto Function Keto+ Shake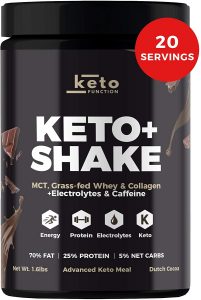 The product is also known as the Dutch Chocolate as they use the real Dutch cocoa to increase enjoyment while drinking the shake. It suppresses cravings with great success as it has MCT Oil and nothing but saturated fat.
When it comes to its nutrition facts, we see that one serving has 15 grams of total fat, 12 grams of protein, and 6 grams of carbohydrates. 4 out of grams of carbs are dietary fiber and if you count your net carbs, you should count the carbs as 2. It has even lower calories than the KetoLogic and calorie count sits at 195.
This one tastes really good as it has cocoa and caffeine in it. So, add it to your nut or almond milk, coffee, or just water and enjoy the taste. As it is with real Dutch cocoa, if you need to satisfy your sweet tooth, you can drink a shake and you will feel satiated.
The box has 20 servings at the beginning so, I would say buying one pack in 15 or 20 days will be fine. If you need to remove all the junk food in your life, you can replace them with delicious Keto+ Shake.
Pros
Big bottle with 20 servings
Tasty cocoa feeling
Cons
#4 Nature Fuel Keto Meal Replacement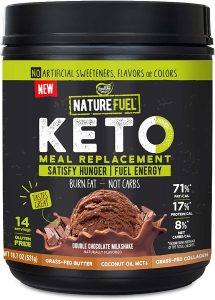 Combine two scoops of shake with water in a shaker or a blender and your meal replacement shake is ready. Yeah, Nature Fuel Keto Meal Replacement is this easy to do. If you are looking for a delicious creamy double chocolate milkshake flavor, the shake is made for you.
Apart from 24 different vitamins and minerals, one serving of Nature Fuel will give you 15 grams of fat, 8 grams of protein, and 9 grams of carbohydrate. The net carb count is 4 grams. Thanks to the lower protein, we cannot say it is exactly keto but it will not snap you out of the ketosis, for sure.
Just like many other replacement shakes, this is also gluten-free but not dairy-free. One bad thing is that it has only one flavor; so, you are stuck with one flavor which is the double chocolate milkshake flavor if you choose this.
Conversely, I like the combination with ice, especially on a really hot summer day. Yet, I have not tried it with other liquids but on the canister, they said we can only combine it with water. So, I do not know how the taste would be with other liquids.
Pros
Low net carbs
A good mix with cold water and ice
Cons
#5 Purus Labs KetoFeed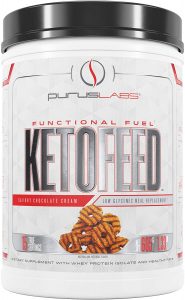 Purus Labs have been producing all types of replacement shakes for sportspeople or different dieters. Then, they finally decided to take steps to prepare a keto replacement shake. However, they made a mistake. They did not understand the "low-carb, medium-protein, and high-fat" part. Their end-product is low-carb, medium-fat, and high-protein.
If you need to balance your macros in a day, you can try one serving of Purus Labs KetoFeed which contains 10 grams of fat, 20 grams of protein, and 1 gram of carbohydrate. Indeed, it has almost zero carbs which are extremely good but this is only good for those who have hard workouts. The total calories in one serving are 170 which is also good.
There are four flavors of KetoFeed: Chocolate Caramel Cream, Creamy Butter Pecan, Oatmeal Cream Pie, and Salted Caramel. It is good for people who do not like plain tastes. The reason why it ranked better than many other shakes in the market is simple: The taste is appetizing while it curbs the appetite at the same time.
Thanks to its MCT oil content, the energy you need in your workouts will be there immediately as MCT is easy to absorb by the body.
Pros
Good range of flavors
Extremely tasty
Cons
#6 SlimFast Keto Meal Shake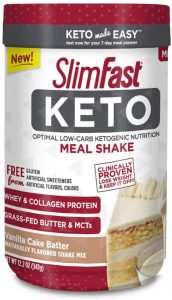 SlimFast has lots of products for keto dieters. There are fat bombs, snacks, and other stuff. So, seeing that they have a meal replacement shake did not come as a surprise to me. Even though the container is quite small, the nutrition facts of one serving look quite promising.
There is a total of 15 grams of fat and half of it is saturated. 8 grams of carbohydrate while having less than a gram of sugar and another 8 grams of protein. It surely is not as satiating as other picks on the list.
To maintain your keto diet, one serving a day is perfect. However, there are only 10 servings per container. The flavors are creamy coffee cappuccino, vanilla cake batter, and fudge brownie batter. Out of all three, my favorite quickly became vanilla cake batter. It smells and tastes like vanilla cake.
The taste is not the best but it is still good. I mean maybe it is a good choice that it does not have the best taste as you will not crave it over and over again.
Pros
The vanilla cake tastes awesome
Less than a gram of sugar
Cons
Only 10 serving per container
#7 KetoScience Keto Meal Shake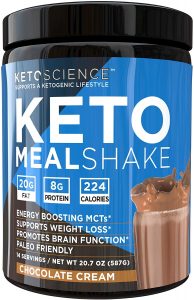 If there is only one thing that everyone expects from a meal shake, it is that it should be filling. KetoScience is a perfect shake in every sense apart from satiating issue. I understand that protein is much more satisfying our bodies than fat; however, there is something wrong here in this shake. That is why it is the last on our list.
There are 14 servings per container and you need to use 2 scoops for one serving. The total fat is 20 grams and 18 out of 20 grams of fat are saturated fats. Additionally, there are 8 grams of protein and 3 grams of carbohydrates.
It helps you stay in ketosis thanks to this 70 percent fat content and accelerates the weight loss due to the MCT oil it has. When it comes to the flavors, it is another favorite of plain flavor lovers with its chocolate and vanilla flavors All in all, apart from filling the stomach, it is quite a good product.
Pros
A good percentage of fats
The chocolate flavor is quite cool
Cons
Frequently Asked Questions
Will they help me lose weight faster?
Even though it is up to you, it is surely going to help. From one meal, you get about 500 to 600 calories and meal replacement shakes can go as low as 150 calories. So, these will help you eat less and intake less calories.
Are there any unhealthy ingredients?
In our reviews, we specifically picked the healthiest ones. However, if you go for the ones that are lower quality, you might see ingredients like added sugar, chemical preservatives, and corn syrup. Avoid those.
How many times can I drink a shake?
Again, it depends on you. If you have an energetic lifestyle, having hard workouts, moving a lot, you can drink it up to 3 times a day. However, even once a day can help.
Related articles: