Ever taken your macros imbalanced and worried that you are no longer enjoying your fat-burning process? Read our Perfect Keto MCT Oil review to see!
Introduction
Keto is gaining more popularity day by day in the United States as well as the rest of the world. However, people are worried as the macros are highly important in this diet. If you stay low on fat for a few days, you might as well say farewell to your ketosis state.
So, some people take detailed notes of what they consume and try to keep their bodies in ketosis as perfectly as possible. If you are on the ketogenic diet, you must have heard of MCT oils, which are supposed to be a great thing for keto.
We are going to get into the details of the Perfect Keto MCT Oil powder, however, before that we would like to talk a bit about MCT oil itself. You might already know what it is, and if that's the case feel free to skip ahead, but just to keep everyone in the loop on the topic.
What is MCT Oil?
MCT oil is a type of a diet supplement called medium-chain triglycerides. As we said, this is merely a supplement, not the diet itself. MCT is smaller than the fats we eat in our daily lives so MCTs are much easier to digest than the normal fat we might consume during our keto dinner.
If you are buying a completely natural MCT oil supplement, it means that it is made from either coconut or palm oil. Especially with the rise of the ketogenic diet, MCT oil supplements became the new big thing in the supplements market.
Yet, people have been asking me "Does it work?". I think nobody knows that for sure as food science has not acknowledged it positively or negatively. However, many people who use MCT oil powder as a supplement claim that they feel full longer and the weight loss process speeds up visibly and noticeably. Under the light of the personal experience, I am leaning towards the idea that MCT oil might work.
So, let's start our Perfect Keto MCT Oil powder review!
Perfect Keto MCT Oil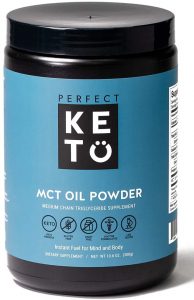 So, let me see the possible scenarios of why you are here. As a rule of thumb, people start extra-motivated during the first days of the diet, following every step, planning every food. In the ketogenic diet, losing a pound in a day is not a miracle. However, as your body gets used to your new eating habit, the weight loss may slow down and from time to time, come to a full stop.
The other scenario is that you may not have much time to lose weight and you may want to accelerate the process as much as possible. Whatever the reason, you want to know an honest review and we are here to provide you with that.
So, Perfect Keto MCT Oil Powder is a product that claims to support you while keeping you on a keto diet and ketosis. To see if their claims are true, let's see what it has.
Supplement Facts
Recently, I have developed an interest in MCT oil powders and I have unfortunately seen too many false claims by different brands. Some claim that it works like an energy drink while some claim that burning fat will not stop even after some cheat meals thanks to their products. The first thing you should know that these claims sound incredible and if something is too good to be true, you know how it ends.
So, in Perfect Keto, one serving has a total of 70 calories which is quite the average of this market. If the oil powder has between 60 to 75 calories per serving, it is totally fine. Apart from that, there is a total of 7 grams of fat that all of them are saturated fat. It means that you are going to take 35 percent of your daily saturated fat need. It is quite all right in that sense if you want to balance your macros.
When it comes to carbohydrates, the total sum of carbs here is 3 grams which is quite low and acceptable.
There is no added sugar or additional flavors in the powder. The whole powder is very low on carbs and full of healthy fat. As we said before, MCTs scientifically smaller than normal fat cells (LCT) and they are easier to digest. Even though I am not sure if they work or it is nothing but a placebo, I can say that they are not harmful or dangerous enough to snap you out of your ketosis.
The whole MCT content in the powder comes from coconut oil. Therefore, it is much healthier than the rest of the market that is full of artificial additives and so on. The composition of the powder is 70 percent C8 and 30 percent C10.
Tricks of Use
The whole pack weighs 300 grams in total and you need to use 0.35 ounces (10 grams) per day which means one dessert spoon full of powder in practice.
You can add it to your drinks, coffee, shakes, and smoothies and drink it just like that. Yet, what we noticed in our uses is that it gets clumpy in coffee and does not look well in that case. If you think that this is the oil's natural response to liquids, it is not even a setback or disappointment.
So, if you do not want it to clump, you can use your blender and have a smoothie instead of a nice, hot, tasty cup of coffee.
If you are short on time, you can use 2 scoops a day but try not to use it excessively. Especially if you are just beginning to add the powder into your drinks, stick with 1 scoop at first to see how your body reacts.
Finally, if you like different flavors, you will love this product as it has probably one of the largest range of flavors. You can buy the unflavored one for coffees; however, chocolate, salted caramel, matcha, and vanilla are at your service, as well. As a tea lover, I loved the fragrance as soon as I opened the box.
Effects in Your Body
Well, this is another thing that I was wondering about MCT oils before researching. What does it do to speed up the weight loss? What are the visible results of getting MCT oil powders? After some time, I think I have found my answer.
Thanks to the feeling of satiety it provides, you will not feel much hunger during the day apart from your lunchtime or dinner time. You wake up and drink a coffee or shake with an MCT oil. Then, you are free from hunger thoughts for a long time. We can easily say that appeasing the appetite is the first thing I would like from a keto supplement. This is what Perfect Keto does well.
The second thing it does is it increases the mental activity as it enhances the ketone levels in the body. BHBs are the type of ketones that our body produces while we are asleep or going through a long period of fasting. As it combats oxidative stress, it boosts your basal metabolism and supports your brain functions. So, you can keep more focused on your work or daily activities thanks to the powder.
Negative Sides
Everything has a fault by nature and Perfect Keto is not an exception here. When we measure the ketosis day by day, we can see that it changes from person to person. The product affects the fat-burning but it does not mean it will do wonders without a well-planned keto plan.
Another negative thing is that it is much pricier than its equivalents in the market. However, I can easily say that this is much better than its equivalents.
Conclusion
As we said in our review, MCT oil is merely a supplement. If you expect a tablespoon of powder to create miracles for you, you will be disappointed. On the other hand, Perfect Keto promises something and it delivers that quite well. If not dissolving in cold milk is a type of a problem for you, you need to avoid this product. However, in general, it is quite good.
Pros
Traceable effects in ketosis
Fully natural
Cons
Pricy (yet better-quality)