Would you like to know what you can cook for tonight if you do not want to spend too much time on cooking? Here are some of the best lazy keto meals!
What is lazy keto?
Lazy keto is a simpler version of the keto diet. You do not need to follow your daily calorie intake or balance your macros. All you need to do is that you should not eat more than 20 grams of carbohydrate a day. That's it! Easy-peezy. So, we are going to give you some ideas for the best lazy keto meals you can cook tonight.
#1 Garlic Butter Sautéed Shrimp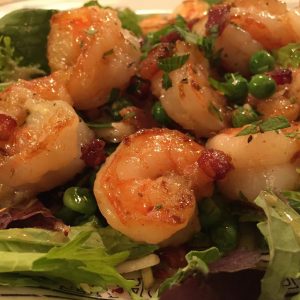 Garlic Butter Sautéed Shrimp is the easiest way to cook shrimp. If you like the taste of shrimp and do not mind the way garlic smells, you will love this recipe as garlic and shrimp tastes so well together. The preparation time is 5 minutes, cooking time is another 5 minutes.
You need a pound of shrimp, 2 garlic cloves, and 8 tablespoons of unsalted butter. You can use any seasoning at home. I did it with a tablespoon of Italian seasoning, half a tablespoon of salt, black pepper and paprika to season your food, it is more than enough.
First, get the shrimp and dry it, devein the shrimp. I keep the tails with it but you can remove if you want. Then, combine all the shrimp with the seasoning. Place them in a bowl then start to mix the ingredients well.
Set your oven to the medium heat, melt the butter and heat up the garlic. Stir them up. Then, add the bowl full of shrimp to your pan. Cook them about 2 minutes per side. If you want to add more taste, you can squeeze a lemon onto it. It is going to get yummier.
Why is it the best?
It is easy but it looks complicated
Shrimp is super-delicious
Garlic and shrimp are like new Brangelina.
Pros
Easy but complex-looking
Appetizing
Cons
Higher protein than needed
#2 Keto Fried Salmon with Asparagus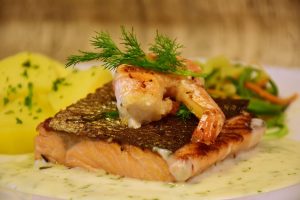 I used to hate asparagus for some reason. It could be the smell, looks, or something else. I do not know; however, ever since I tried asparagus with seafood, it has become one of my favorite herbs. This one is one of the easiest recipes I have ever tried. It takes 6 minutes of prepping time and 9 minutes of cooking time. There are only three ingredients in this meal. You need 8 ounces of green asparagus, 3 ounces of butter, and 9 ounces of salmon.
First, you need to make sure that if your salmon is not in pieces, you need to cut them julienne so that they will look better when they are combined with the asparagus. Then, rinse your asparagus.
Later on, get a frying pan and put your butter and heat it up. Make sure that your pan is big enough. When the butter melts, fry the asparagus for about 4 minutes and add salt and pepper. I like them frying in different parts so I gather the asparagus on one half of the pan. Then, put your salmon on the other half to fry.
If you want to impress someone, add some broccoli or zucchini. They will think you are a great cook.
Pros
Very healthy food
With broccoli, looks like a chef food
Cons
Asparagus might not be your thing
#3 Cashew Chicken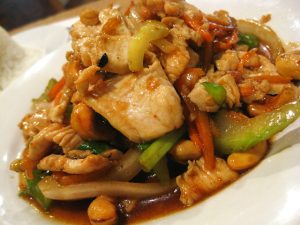 The reason why this becomes the third on our list is that it needs a variety of ingredients. Yet, do not worry, it is as easy as the others and it will surprise your mouth with a really good combination. Let's get to what we need. We need 3 chicken thighs, 2 tablespoons of butter or coconut oil, a quarter cup of raw cashews, a green bell pepper, a tablespoon of vinegar, a garlic clove, a tablespoon of sesame oil and seeds and green onions and half of the white onion.
First, toast the cashews in a pan for about 10 minutes until they become brownish. Then, slice the chicken thighs and onions. They should be about the same size for better aesthetics. Spill some coconut oil (or butter) into your pan and add the chicken thighs and let them cook for 5 minutes.
Then, add pepper, onions, garlic, and whatever sauce you want (I added chili sauce). Then, add salt and black pepper. They should fry for 3 minutes. Lastly, add vinegar and cashews. Just before serving, add some sesame oil. If you want, you can just add rice wine vinegar instead of normal vinegar. The whole session takes about 25-30 minutes.
Pros
The tastiest food on the list
Tasty and fit
Cons
#4 Garlic Butter Steak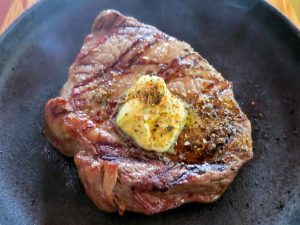 Who does not like steak? Especially, when it cooks with really good butter and nice garlic. This recipe is as tasty as it can be while being totally suitable for the keto.
First off, you need to peel garlic cloves and smash them. If you use your chef's knife's face, you will have well-smashed garlic cloves. Add some salt and mince the garlic.
If you want to enjoy the steak to a maximum level, you need to season your steak only with salt and ground black pepper. Take your skillet, add some butter, and set your oven to high heat until it gets very hot. Take your steak onto it and cook both of the sides for about 2-3 minutes. 3 minutes means medium-rare. If you want a well-cooked steak, you need to cook both sides for 4 minutes.
Then in another pan, melt the butter with low heat. Add the minced garlic there and mix as much as possible for the next 4 minutes. Then, spill the garlic butter over the steak with the help of a spoon.
If you want it to look aesthetically pleasing, you can add a leaf of parsley over the steak before serving. Enjoy it!
Pros
Easy to cook
Delicious to eat
Cons
Less affordable depending on the steak
#5 Rotisserie Chicken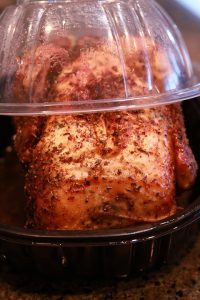 Chicken is a great diet food as it is very low on carbs and high on protein. If you need to balance your macros you can serve this chicken food as it has about 80 percent of fat in this meal. If you have some leftover rotisserie chicken, do not take into the trash.
In order to start preparing the food, you need to have a pound of rotisserie chicken, 7 ounces of fresh green cabbage, half a red onion, a tablespoon of olive oil, half a cup of mayo and optionally cauliflower.
First of all, just chop the cabbage and shred it into small pieces. Then slice the onion in small pieces. Add the rotisserie chicken and the mayo later.
I cook it with olive oil but if you have coconut oil you can do it with that too. I spill some oil over the cabbage. Then, place all the ingredients on the plate. Easy.
Pros
No extra cooking
Good recycling
Cons
Hard to convince kids to eat it.
#6 Bacon and Eggs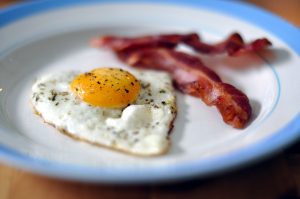 Nothing beats a customary American breakfast with bacon and eggs. During my time with the keto diet, I have been eating bacon and eggs more than ever. When I come back home tired, all I want is just a portion of simple food that I can mizzle and move on to my life.
I am sure many of you already know how to cook it but let's devote this part for those who have not taken a skillet in their palms. First, spill some olive oil onto your skillet and set your oven to medium-high heat. Then, add the bacon strips to the shimmering hot oil. Then, sunny side up eggs needs to be there.
If you want to add some extra flavor, I like minced red pepper as I am a spice-person. However, garlic and onion powders are also good for that.
Pros
The most traditional food in the US
Well-cooked egg is a great thing
Cons
Need more than one portion to fill up
#7 Pork Rind Nachos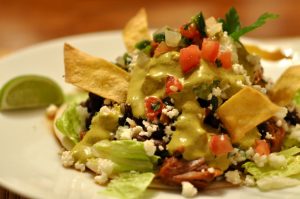 Well, pork rind is a great alternative to the regular chips that are full of carbohydrates. Pork rinds, on the other hand, are great while doing keto diet thanks to its high-fat, high-protein content. You can eat them like chips or smash them into breadcrumbs and use it as a base for your food.
Our number 7 on this list is pork rind nachos and it takes 10 minutes to prepare it. First, take a large skillet and set it for medium heat. Then, add ground beef and salt and pepper and cook it for about 5 minutes. When the beef gets its color after cooking, spread them over pork rinds and add some cheese on it. Bake all of it for 5 minutes so that cheese melts.
If you want to enjoy more, try to cook the amounts that you will be eating. When you leave it for later, you will see that the pork rinds lose their crispiness and crunchiness. It is a great snack for watching movies with your significant other.
Pros
Good snack
Healthier than regular nachos
Cons
Lose crispiness after a while
#8 Avocado Egg Salad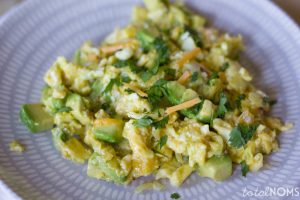 The only reason the salads rank this low is that I do not like salad. I am not a salad-person but I still prepare for the kids. They keep asking for the avocado egg salad. I was even prepping this even before keto so, it was a little bit surprising that it is keto.
You need 5 hard-boiled eggs, 1 avocado, 2 sticks of green onions, 4 slices of bacon, a quarter cup of plain yogurt, a tablespoon of sour cream, and fresh dill.
To start prepping, you first need to dice the avocado and the eggs. Then, slice the onions thinly and add all three of them in your salad bowl. Cook your slices of bacon in a skillet for about 2 minutes and let it rest for a while. After the rest, add it in the bow.
In another bowl, mix yogurt, sour cream, dill, salt, and pepper and whisk for 3-4 minutes. Then, add this yogurt mix to the egg salad and stir.
If you leave some dill aside, you can garnish it. I also like it in my sandwich.
Pros
Makes great sandwiches
Avocado and eggs, awesome combination
Cons
The least of fat content on the list
#9 Shrimp with cauliflower rice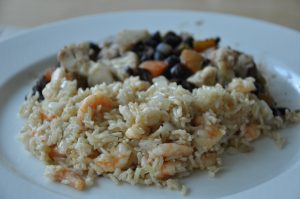 Keto diet has taught me one thing and it is "love thy seafood". I was all right with the seafood before but I never craved shrimps or salmons. When you combine it with a vegetable, the taste goes to Nirvana.
Here is what you need: half a pound of Cauliflower, a pound of baby shrimps, butter, ground black pepper, and other spices you want. Get your food processor working for cauliflower florets and make it work until it gets rice-like. Then, combine baby shrimps, butter, and spices you choose in one bowl and mix them with the cauliflower rice. Bake it for 15 minutes. You will have an awesome dinner!
Pros
Good for those missing rice
Healthy seafood
Cons
Not everyone likes cauliflower
#10 Simple Greek Salad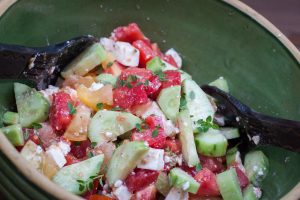 Well, coming from the Mediterranean, you will have a great side dish, aperitive, or even a sandwich. As I said before, I am not the biggest fan of salads and the Greek salad is not an exception. However, it is easy, tasty, and keto! So, it deserves a place on our list even if it is from the last pick.
So, you need 2 cucumbers, a pint of cherry tomatoes, four ounces of feta cheese, 2 tablespoons of fresh dill, and 2 tablespoons of virgin olive oil. If you are fast-handed, the whole process will take about 10 minutes but even the worst-case scenario tells me that you will be ready in 20 minutes.
So, peel and chop your cucumbers, cut the cherry tomatoes into two from the middle. Then, add the feta cheese in a bowl with them. Drizzle some olive oil to make you feel in an authentic Greek island and garnish it with the fresh dill. Toss them to mix.
Pros
No cooking needed
Takes 10 minutes
Cons
Frequently Asked Questions
Yes, they are, every one of them has more than 60 or 70 percent of fat, 25-35 percent of protein and 5 percent or fewer carbohydrates. When you are doing the keto diet, these are the requirements.
The ketogenic diet is a type of diet that requires you to eat foods that are rich in fat, moderate in protein, and poor in carbs. People all around the world do keto and lose tons of fat every day.
You are talking about lazy keto, what is it?
As we said in the beginning part, the lazy keto is the type of a keto that you do not have to count your calories, fat, or protein but only carbohydrates. You need to take less than 20 grams of carbs.
Bottom line
So, these are the best and the easiest 10 keto recipes that we have prepared for you. If you do not have enough time to prepare food for yourself and for your friends, bookmark this page so that you will be able to reach here again. They are all tasty, easy, and on top of all, keto!
Hope you enjoy whatever you are going to cook.
Related articles: