Have you started the keto diet and already in need of some sweet treats? Here is our Keto Sweet Treats Cookbook review of a book that promises to satisfy your sweet tooth!
Introduction
What do you think about when I say "sweet treats"? If you are reading this with a juicy mouth already, then we have good news for you. Many people try to go on ketogenic diets for lots of different reasons. The primary reason is that they have excess body weight. Normally, you should not eat anything that is sweet, rich in carbohydrates, and high in sugar (or oftentimes even low for that matter!) when you are on the keto diet.
However, does it mean you need to stop eating anything tasty? The answer is absolute "No". When you start seeing your weight dropping, it motivates you until the moment you see an ad offering you to "try this dessert". Then, you start to think about nothing but sweets and desserts. I know because all of us have been there, done that.
As we said, those days are over. There is a perfect solution for that. Kaitlyn Donnelly wrote just the book you need to satisfy your sweet cravings. Let's see what she had to say about the topic.
About the Author
Kaitlyn Donnelly is an accomplished chef, food stylist, food consultant, and motivational speaker. Yet, on top of all that, she is a cookbook author with nice and easy recipes for different diets. She penned a total of six books.
These are mostly diet recipe books for diets like carnivore diet, bone broth diet, and the ketogenic diet. She has a nice writing style that makes cooking easy for regular people who are not professional or even home cooks. So, if you are not good at cooking, it does not mean that you should refrain from cooking. She firmly believes that anyone can cook with the right recipe.
Ms. Donnelly aims to help you gain confidence in the kitchen to cook satisfying meals daily. As she once said, "Health and happiness go hand in hand, and how can you be happy if you are not eating what you truly desire?"
We strongly believe in the meaning behind this sentence. You are what you eat and if what you eat does not make you happy, then, it means you will stop eating them as soon as you reach your target. What happens next? Yo-yo effect. The majority of people gain weight after they feel they reached their target and they start eating what made them gain weight in the first place.
Keto Sweet Treats Cookbook: Easy Ketogenic Desserts, Low Carb Snacks, Treats & Fat Bomb Recipes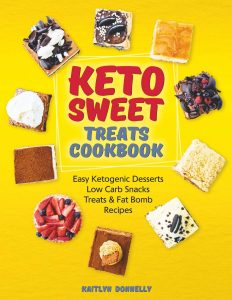 The book starts with an incredibly informative introduction part. If you are hesitant about the ketogenic diet or do not know what you can eat, the book informs you well about the book. We would like to give a review of this part before everything else.
Donnelly has actually two books about Keto diet and she basically reads and writes a lot about the keto diet. So, her information is sure to be up to date and before starting to cook, we strongly recommend you to read this part as well.
The main idea of the book
If you had started your diet, you must have already known that you need your macros and you need to eat them diligently. However, some problems exist with getting the proper amounts of macros, especially fats, so Ms. Donnelly explains how her "fat bombs" come into play and excels in this stage.
What I noticed in the majority of Keto dieters is that they plainly intake the fat bombs. They eat dark chocolate or coconut flakes, vanilla, peanut or almond butter to have the fat bombs. However, Ms. Donnelly thinks that you can enjoy these meals more if you do one of her seventy fat bomb recipes.
Yes, you will have seventy different fat bomb recipes with the book. When people first start their diet, especially if they are not skilled cooks, they revolve around a handful of recipes for a long while. Then, they get bored with these recipes and look for new recipes online.
Types of Keto Diet and What to Eat
The book's introductory part extensively explains what a keto diet is and what are the types of the keto diet. The main ketogenic diet types are standard ketogenic diet (SKD), cyclical ketogenic diet (CKD), targeted ketogenic diet (TKD), and high-protein ketogenic diet (HKD).
If you are doing SKD, it means you are doing low-carb, medium-protein, and high-fat diet. On the other hand, CKD means that you are reinforcing your body with some days of high-carb meals. For example; 5 keto days followed by 2 high-carb days. Yet, whichever type you eat, you will be eating less and less sugar and carbohydrate throughout your diet.
Or is it so? Do you need to stop eating carbohydrates and continue living? I mean both physiologically and psychologically it is not so possible. If you remember your biology classes back at school, you probably know that carbs are our fuel tanks. They give us the energy to live. In case of an energy outage, our body uses the fat. We keep burning the fat, so we need fat bombs.
To be clearer and more precise, Donnelly in her book starts listing what you can eat and what you should reduce to eat on a Ketogenic diet. I mean, she literally lists everything up. The list starts with meat and seafood and as it is in alphabetical order, top of the list is "alligator". Well, I have never heard anyone eating an alligator but it is good to know that we can eat it, yeah?
Fat Bombs and How to combine them
On the list of what to eat, there is a part under the category "sweeteners". This category has things like "Stevia, Erythritol, Monk Fruit and Xylitol". So, Ms. Donnelly's plan is simple. Combine them with the macros you need to take and enjoy your meal more.
Fat bombs are usually extremely-high on fat so, we cannot prepare large portions, right? Just a few nibbles and we are already done! So, these fat bombs in the book show that if you make them quite sweet, you can shape them like small balls or mini-muffins and have a healthy snack.
As they contain lots of healthy fats, you do not need to worry about gaining weight at all. The recipes in the book are usually done with coconut oil or coconut butter as the ingredient.
One last thing about the fat bombs. Donnelly recommends you keep them in your refrigerator as they go bad quite easily. At room temperature, it becomes liquid and leaks everywhere. So, keep it in the fridge when possible.
Recipes
There are more than a hundred recipes in the book. As we mentioned before, seventy of them are for fat bombs and I did not count exactly but about fifty of them are for sweet treats. If you consider half of the fat bombs are sweet too, that means you will have a myriad of sweet treats in your hand.
When it comes to the recipes, I think you will not be able to find better recipe explanations in the market. Sometimes her recipes can be quite expensive for a little snack but there needs to be one for every pocket, does it not? However, the explanations are quite well. She explains it like "a glass of this", "a tablespoon of that" not like "2.25 ounces".
She also tries to use ingredients that you can find in your local grocery not "2 emu egg yolks" as some cookbooks do. They are easy to prepare and it lists serving quantity, prep time, cook time, nutritional information and all the necessary information to keep you on track.
The only thing I did not like about the book is that sometimes the images are totally different from what I cook. It must have been some editing mistake.
Conclusion
Before buying this, I was just searching online "Keto-friendly recipes" and doing some random meals. However, it is actually a great book with lots of information and explanatory definitions for each recipe. Yes, I would have liked a larger variety of recipes when it comes to sweet treats, but this is quite enough for everyone.
Pros
Light and nutritious recipes
Easy to find ingredients
Cons
Related Articles