Craving a yummy and gratifying Asian food recipes on the keto diet? Here are 6 of the best keto Chinese food recipes for you to try at home!
Introduction
The ketogenic diet has been gaining popularity around the world and people have been lining up to join the army of humans practicing this healthy lifestyle. Losing weight has never been easier thanks to this unique low-carb, high-fat diet. However, if there is one thing that becomes more and more difficult every day, it is the cooking part.
It is incredibly good that people are getting used to eating regular home-made food rather than fast food even for their lunches at work. Yet, after sometimes we go out of good recipes and it is just boring to cook the same things again and again.
What to look for in an Asian Recipe which is keto-friendly
If you are familiar with the keto recipes, you have probably seen lots of different ways of cooking, ingredients, and so on. Asian cuisine recipes are no different than that. The only thing you need to look for if you are going to make up something is the good macros. To keep up with the macros, try to take notes of the nutrition facts of every ingredient. Then, make sure that you have taken 70 percent of fat, 25 percent of protein, and 5 percent of carbs.
If you are going out for an Asian restaurant and you are sure that their food contains such macros, you may ask what oil they use. Try to use olive oil, butter, or coconut oil if possible.
#1 Asian Meatballs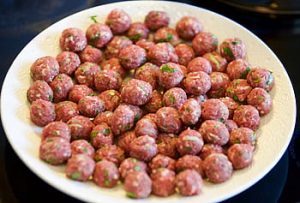 Asian Meatballs are something that everyone exactly needs for the times that they want some really tasty and satiating food. These meatballs are not so different than the original version so, seeing the difference between keto and non-keto versions is even harder.
This recipe is a no-brainer. It is simple, yummy, and easy-to-cook. Get a pound of ground beef and mix it with a tablespoon of scallions. Add tamari a tablespoon of tamari sauce and sesame oil. Then break an egg into the mix. Shape them like meatballs, not too big not too small. Bake them for 20 minutes in 420 F (220 C).
While it bakes through, get 3 tablespoons of tamari sauce, 3 cloves of garlic, a teaspoon of vinegar and sesame oil and scallions into a bowl, and mix them nicely. This will be our dip sauce. When the cooking of meatballs is over, serve it in two different plates.
That is all. It takes less than 10 minutes to prepare and 20 minutes to cook. Yet, the taste in the mouth stays for longer. Whenever my friends are coming over and I know that they will not like my normal keto meal. I do this like a snack-ish dinner and they simply love it.
If you want to eat it with different dipping sauces, I would like to hear your ideas as well.
Nutrition Facts
Calories: 495 Carbohydrates: 10 g Fat: 42 g Protein 52 g Fiber: 2 g
Pros
Cons
Tamari sauce might be hard to find
#2 Spring Rolls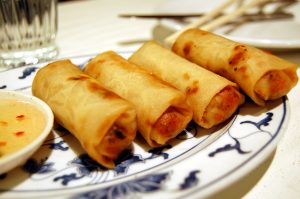 It would have been ranked the number 1 if it was easier. I wish it was easier as I love this recipe. These are rolls that you use minced chicken (1 pound), 1 red onion, 2 garlic cloves, 3 carrots, and rice papers.
First, fry the onion and garlic in olive oil or coconut oil. Then, add the minced chicken and salt and pepper. Cook until the chicken is well-cooked.
Grate the carrots and after that, put the rice papers into the water to soften them up. The good time is about 10-15 seconds. Then, place 1 soaked rice paper, put some chicken mix and the carrots. Fold the bottom of the rice paper so that mixture will not spill, then roll all the way up.
Put this rice paper on the baking tray which you had it oiled before. Do this a few more times. My ingredients are for about 20 rolls. If you want less or more, you can adjust the mixture.
It takes about 20 minutes to prepare and baking time is another 10 minutes. The mixture is quite tasty and if you like different vegetables, you can add different vegetables like spinach, beans or anything you want.
Nutrition Facts (For 20 rolls)
Calories: 900 Carbohydrates: 8 g Fat: 90 g Protein 67 g Fiber: 2 g
Pros
Snack-like recipe
Very low carbohydrates
Cons
#3 Chinese Meatball Soup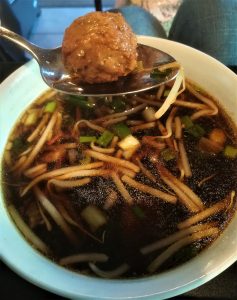 I wanted to add a good appetizer in this list even though I am not a soup person myself. However, when I first tried this meatball soup, the idea to add meatballs into some dense soup was not so intriguing. Then, I got used to it and I still like it.
What you need here: Half a pound of ground beef (or pork), a quarter of a cup of parsley, 5 garlic cloves, 1 egg, 32 oz of chicken broth (or bone broth), half a tablespoon of salt, 2 tablespoons of fresh thyme.
So, pour the broth of your choice into a large pot on low heat. If you want you can add ginger but I do not like it a lot. While it simmers, mix the rest of the ingredients, meat, parsley, garlic, thyme, egg, salt, and pepper in a large bowl. Mix nicely. Shape 20 meatballs with your hands. Not too big, not too small. Boil for 15 minutes to cook the meat.
So, this recipe is for a family of four and if you want, you can adjust the ingredients. In addition to that, you can add some cilantro to have a better smell.
Nutrition Facts (For one bowl with 5 meatballs)
Calories: 430 Carbohydrates: 4 g Fat: 32 g Protein 22 g Fiber: 1 g
Pros
Delicious meatballs
Appetizing food
Cons
Bad for dense soup lovers
#4 Beef Teriyaki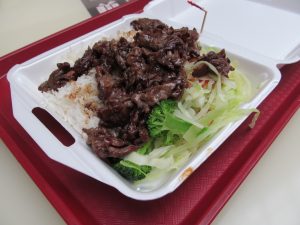 I love Beef Teriyaki and this is the closest thing to the real beef teriyaki. This is the keto version of it but of course, I would definitely prefer the original beef teriyaki. However, we need to stick with this for now. It is still tasty, for sure.
Here, you need 2 tablespoons of tamari sauce and a tablespoon of applesauce. 2 garlic cloves, 2 beef sirloin steaks, 1 tablespoon of ginger, sesame seeds, sesame oil and avocado oil, 10 mushrooms.
Get a bowl and add the tamari sauce, applesauce, garlic, and ginger and mix them well. Then add your sirloin steaks and let them marinate for a while. While that time, cook the sesame seeds in a dry pan. If you have a wok, get the wok, if not, get a frying pan and add some avocado oil and heat it up.
Then, add the mushrooms into the pan. Then, add the steak slices and the marinade and fry for 3 minutes in medium heat. Lastly add the sesame oil, salt, and pepper as much as you want. The sesame seeds will be the nice decoration at the end.
Nutrition Facts
Calories: 675 Carbohydrates: 9 g Fat: 53 g Protein 38 g Fiber: 3 g
Pros
Finely toasted sesame seeds
High fibers
Cons
Tastes different than regular teriyaki
#5 Marinated Flank Steak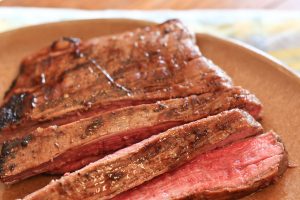 This is a very easy recipe to do. You need a grill and you can do such a great Chinese way of marinated steak. You need 3 pounds of flank steak, a cup of coconut oil, half a cup of vinegar, 2 tablespoons of mustard, 6 garlic cloves, 1 tablespoon of fresh ginger, paprika, onion powder, salt, thyme and chili powder and juice from a lemon.
Cut the flank steak so that it will cook better. Get a large bowl and put every other ingredient in it. Crush the garlic cloves, of course. If you have a zip lock bag it will be better in that. Divide the marinade equally between the bags and let it rest for a while. The best is one night. Then, grill them the next day. If you want medium rare, you should grill it for 3 minutes on each side. If you use a meat thermometer, it will be better however, it is not a must if you are a seasoned griller.
From 3 pounds of flank steak I usually get 6 or 8 servings depending on the people I am serving for. The following nutrition facts are for one steak in 8 servings.
Nutrition Facts
Calories: 700 Carbohydrates: 7 g Fat: 40 g Protein 70 g Fiber: 1 g
Pros
Easy grilling
Nice marinade
Cons
Coconut oil soldifies below room temperature
#6 Sweet and Sour Chicken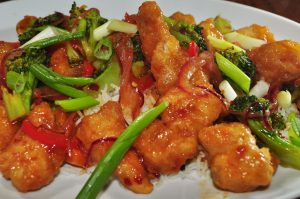 I can't think of a good Chinese recipe list without a good sweet and sour chicken recipe. This one has lots of ingredients and probably the hardest to do on this list. That is why it ranks number 6.
For the sauce, you need 7 oz tomato paste, 1.5 cups of chicken broth (or bone broth), ¼ cup of vinegar, 1 tablespoon of lime juice, and fish sauce ½ teaspoon of salt, garlic powder, and ginger. For the chicken, 1 pound of boneless chicken thighs, 2 eggs, 1 cup of coconut oil, and 1.5 cups of parmesan cheese.
Put all the ingredients in the saucepan and mix them. Boil them for 3 minutes until they get denser. Remember to whisk them often as they need to get combined. After cooking, put it into the fridge.
Then, heat the coconut oil in a skillet. Cut the chicken thighs into smaller sizes. Then crack the eggs into a baking dish and combine with the grated parmesan and pepper. Dip a chicken piece into the mixture. When the oil is shimmering hot, fry the chicken for 5 minutes.
Get the sauce out of the refrigerator and spill on the chicken bites. If you want, you can decorate them with scallions, mint or other herbs.
Nutrition Facts
Calories: 521 Carbohydrates: 8 g Fat: 36 g Protein 45 g Fiber: 4 g
Pros
Almost original sweet and sour chicken
Very appetizing appearance
Cons
Frequently Asked Questions
Are these recipes dairy-free?
Most of them are; however, the last one has got dairy in it. So, better check the ingredients in detail before deciding to cook that.
Will these recipes get me into ketosis?
Only these will not make you enter ketosis but these recipes will help you with the fat-burning process. We have the nutrition facts for one serving. So, you can follow it.
Related articles: